ASKO products have been around for more than two decades. They offer innovative dishwashers, washing machines, and dryers that provide superior performance while saving water and energy. However, they are not immune to repair. The good thing is that you have someone to call if you need ASKO appliance repair in Palm Springs. One of the brands we handle is ASKO. It's a reliable brand but, just like anything, it can still break after a long time. And if you need a factory-trained professional to fix your Asko appliance, then you can call us for a guaranteed repair. 
Does
ASKO Appliance Repair in Palm Springs
Fix Dishwasher Issues? 
We do repair any issues with your dishwasher. There are many symptoms you need to be aware of before you call a dishwasher specialist. 
For instance, if your dishes have a foul odor after washing, then it's a sign that your ASKO dishwasher requires repair. It's especially true if the glassware becomes filmy. 
If the dishwater has puddles around it or you smell a mildew odor coming from the unit, then it requires repair. Most of the issues that you notice from your dishwasher are signs that the unit requires a repair that must only be done by a professional. 
But many homeowners in Palm Springs would just consider replacing their dishwasher, especially if they know that it has been around for a decade. However, before you spend money on a replacement, you should call our specialists first. Keep in mind that ASKO is a reliable product and it can last for more than 10 years.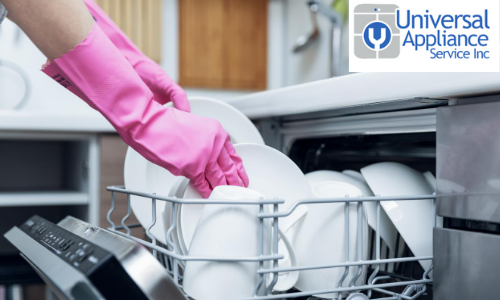 Our team at Universal Appliance Service Inc consists of highly-trained technicians who have been repairing washers for many decades now. They can restore your precious appliance to nearly new condition. Once the repair is done, you will notice the difference in your unit's performance. 
When you book an appointment with us, you can expect that our technicians will arrive at your house on time. They won't waste time chatting with you. Instead, they immediately evaluate the condition of your dishwasher and diagnose it. Once they have their diagnosis, they will explain to you how they are going to handle the issue. 
They won't force you to have your dishwasher repaired by our team. It means that you can opt out. However, we recommend that you consider the repair strategy they present. Otherwise, you will be left with a non-working dishwasher that causes your dishes to smell. 
If you're worried about the cost, don't worry because our team will give you an estimate before they start working. Rest assured that there are no hidden fees or unnecessary work they impose.
We understand that our clients have various options when it comes to hiring an appliance repair. However, only a few of those technicians are qualified to repair your ASKO dishwasher. 
If you wish for your unit to last longer, then make sure that you have it repaired by our certified ASKO appliance repair in Palm Springs. Give us a call today for an appointment: (818) 832-5318.